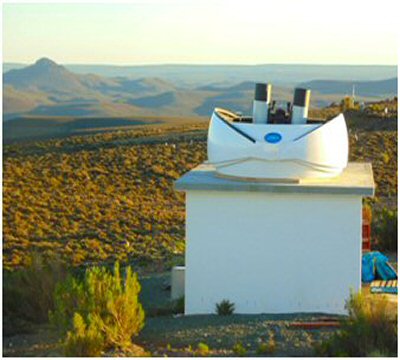 04 Apr

MASTERS of the Universe
The MASTER-SAAO robotic optical transient detection system consisting of two 0.4m telescopes.
Following the installation of the robotic MASTER SAAO optical transient detection system in December 2015, some 27 new transients have been detected. Of these 19 are new cataclysmic variables (CVs), 2 were supernovae and 6 were unclassified transients. In addition several Gamma Ray Burst (GRB) follow-up observations were conducted, leading to the identification of optical counterparts and the determination of the decay curves for two of them, and upper limits for the rest. The latest MASTER-SAAO GRB detection was of GRB 150301B (GCN Circular 17518; 1 Mar), at an unfiltered magnitude of 15.3. Regrettably the weather precluded an attempted SALT observation, but ESO VLT spectroscopy with X-SHOOTER, some 5 hours after the burst, led to the detection of a R = 21 afterglow with several absorption features (FeII, MgII, MgI), implying a redshift of 1.52.
As part of a SALT Directors Discretionary Time program, snapshot RSS spectroscopic observations were undertaken of three MASTER SAAO transients in order to optically identify them. They were subsequently identified and the results published in Astronomers Telegrams (ATels) to be a Dwarf Nova declining from outburst (Atel #7165), a flaring FSRQ blazar at a redshift of 0.90 (Atel #7167) and an eclipsing Polar with a 2.1 h orbital period (Atel #7169). The latter was determined from follow-up photometry on the SAAO 1.9-m and 1.0-m telescopes using the high speed SHOC cameras. This was conducted during a campaign of CV photometry undertaken by UCT graduate student Hannes Breytenbach and Mokhine Motsoaledi, together with John Thorstensen and students from Dartmouth College, who have been visiting SAAO and UCT for the summer.